Former slave Harriet Tubman will replace Andrew Jackson on the $20.00 dollar bill, (Jackson will be moved to the back of the bill) and  six leaders of the Suffragette movement will be featured on the back of the $10.00 bill.  It is the goal of the U.S. Treasury to place these new currencies into circulation by 2020,  coinciding with the 100th anniversary of the 19th Amendment
For the past decade the gender pay gap has remained static.  ('The Simple Truth About the Gender Pay Gap', 'Graduating to a Pay Gap', Forbes magazine's Lisa Maatz, Michelle Singletary, Washington Post columnist).
The U.S. Census Bureau cites that women working full time, year round, earn 77% of what men earn.  Add to this the 'pink' tax or 'gender' tax, where women pay $1,351.00 more a year than men for equivalent personal care products and services like dry-cleaning. (According to 1995 CA study.)
The Paycheck Fairness Act, which was preceded by the Equal Pay Act of 1963, was first approved in 2009 and  has been on the floor of the Senate four times since 2011.  All four times it has been blocked by Senate Republicans.  It does not appear women are going to get any help there.
According to the National Women's Law Center long term financial effects of the gender gap are staggering.  Over the course of a forty year career the loss for Caucasian women is $430,480.  For African-American women it is $877,480. and over $1 million for Latinas. These figures are not adjusted for inflation. www.nwlc.org.
I have some ideas.  To balance this economic inequality, women will only pay 77% on the dollar for ALL purchases.  Women will only pay 77% to rent living spaces.  Additionally, women will pay prices for shampoo, deodorant and razor blades that are equal to those of our male counterparts.  For example, women will now pay only $2.00 to dry-clean a shirt (the price men pay) rather than $6.50.
With Lucretia Mott, Sojourner Truth, Susan B. Anthony, Elizabeth Cady Stanton and Alice Paul on the back of the $10.00 bill, and MLK Jr., Eleanor Roosevelt and Marian Anderson appearing on the back of the new $5.00 bill, perhaps it is time for women to renew the fight against gender inequality and economic injustice.
Placing Harriet Tubman on the face of the new currency is an honor to the resourcefulness, power and dignity of the feminine.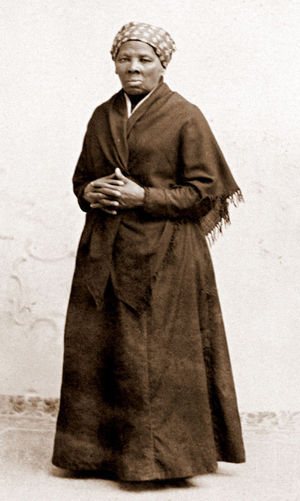 Harriet Tubman